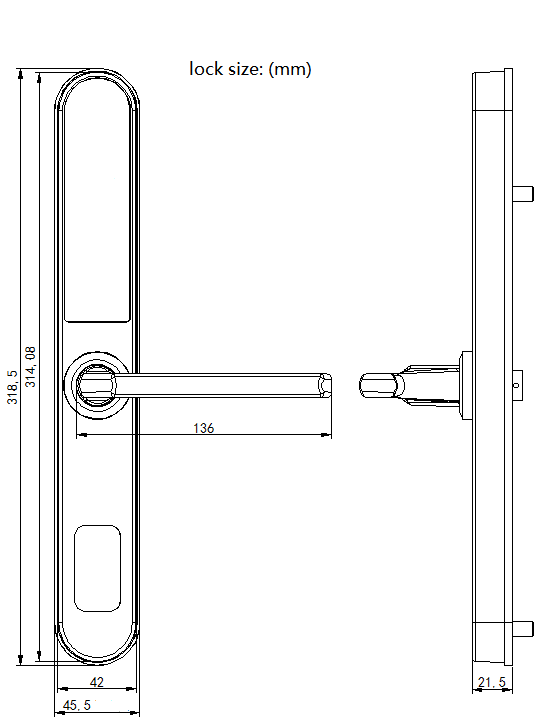 Available mortise (304 stainless steel)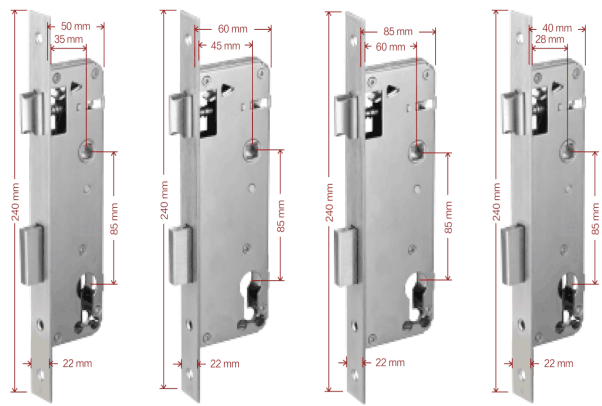 Available color: Coffee brown/Silver /Black (Euro style slim hotel lock with Euro standard mortise)
Material: Aviation aluminum alloy with solid 304 stainless steel mortise; 28*85mm; 35*85mm; 45*85mm; 60*85mm;
1. Features:
1. Metal structure, solid and durable;
2. Adopt Japan MABUCHI micro-motors which ensure 500,000 running times without problem;
3. Using Holland PHILIPS or America ATMEL chips for PCB, stable and durable;
4. International standard five latches lock which pass the testing of 300,000 times.
5. Anti-technology opening cylinder and computer keys endow door lock with higher burglarproof ability;
6. Hotel lock management software can be connected with the reception desk of management system of Germany Fidelio company;
7. Current latest 992 pcs unlocking records can be stored in the chip of door lock, even the mechanical keys opening record without exception;
8. Normal-open state can be set for meeting.
9.Perfect key card management and clear authority. There are Master Card,
Building card,Floor Card, Guest card, Emergency card. Hotel managers can
modify the authority of each card according to actual need at any time.

2.Technical parameters:
1. Power supply DC4.5V-6.5V, 4 standard 1.5V AA alkaline batteries;
2. Battery life Over 15000 times normal unlocking;
3. Static current < 20 uA;
4. Dynamic current <150 mA;
5. Storage temperature -20 - + 85;
6. Storage humidity 10-98% RH;
7. Working temperature 0 - + 60;
8. Working humidity 15-95% RH;
9. Card reading distance 0-5cm;
10.Reading & writing time <0.5s;
11.Data keeping Over 10 years;
Product Description
12.Applicable chip Mifare-1 card(13.56MHz), Temic 5557 card or EM card (100KHz-150KHz);
13.Reading & writing wayNon-touched closer induction;
14.Opening time Turning the handle one time to open the door in valid, if dont open the door, it will be locked automatically in 6s;
15.Reliable opening The success rate of opening is 100% in normal punching;
16.Low voltage alarm When voltage lower than 4.8V, there has acousto-optic warning but it still can be opened 100 times;
17.Mechanical key Equipped with spare mechanical key make sure the door unlocking in emergency; It can be made into one key for one door or one key
for all doors;
18.Installation size Make sure the door thickness between 30 and 55 mm (Please mark specially if over 55mm).45mm is the best thickness. If the door
surface is decorated, the distance between the decorative edge and edge of door must be over 130mm.